This flooring has growing popularity since its invention in Sweden because of it is durability, ease of maintenance and versatility with a great variety of modern colours and patterns, and, of course, it comes at very reasonable price. One of main benefits of laminate is that it is designed to look shiny and polished.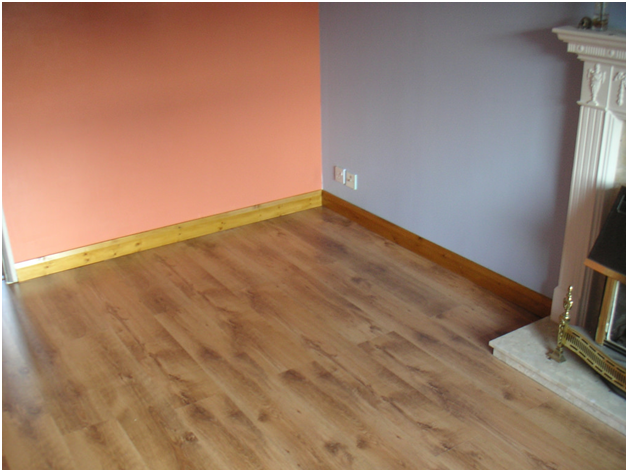 Cleaning laminate flooring is easy. However, improper cleaning can result in build-up of in-grained dirt and muck over time. In addition, remnants from the incorrect cleaning products can build up and affect the sheen by making it dull. According to Carolyn Forte, director of the Good Housekeeping Institute Cleaning Lab, taking good care of laminated floors start with regular care like vacuuming regularly from the outset. Avoid using the wrong products such as abrasive cleaners or soap-based or oil-based cleaners to prevent damage to the protective finish.
Handy tips to getting the shine back on your floor are set out here.
The answer to restoring the shine is thorough cleaning with the right cleaning products.
A Dust- and Hair-Free Floor

Thoroughly vacuum (using correct setting) or sweep the floor to ensure the floor is completely dust- and hair-free.
Choose the Correct Cleaning Product

Dullness can be caused by the use of incorrect products. To remedy this issue, use the correct specialist floor cleaner and follow the instructions included with product.
Flooring experts can give specialist cleaning advice if required. Alternatively, you can try a homemade eco-friendly cleaner by mixing one cup of distilled white vinegar with one gallon of warm water.
Apply the Vinegar Mix Directly to the Floor

Apply cleaner without over-wetting the floor using a soft mop. Next, rinse the floor with clean warm water – once again without over-wetting. Use a clean dry lint-free cloth and dry the floor by hand.
Finish with Laminate Floor Polish, If Desired
A suitable specialist floor polish can be applied as per instructions once the floor is completely clean. Dry it, as set out previously.
In conclusion, this versatile and modern flooring should be cleaned properly from the outset by ensuring dirt and dust are cleaned up regularly to prevent scratches or dullness and ensure the shine endures. Otherwise, simply follow the easy steps as set out above to restore the shine.