Some trends come and go but knitwear has been around for centuries and isn't going anywhere. Once the cold winter draws we always want a good range of cosy, but fashionable, knitwear at our disposal. Allow us to walk you through six top ways to make your knitwear rock.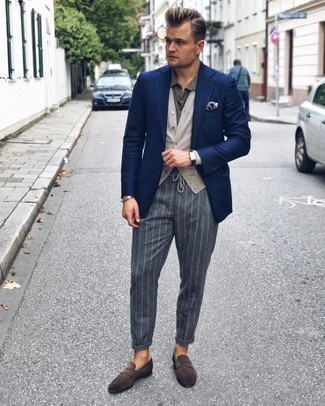 Image Credit

The classic all black look

A great way to stay looking sharp without sacrificing warmth and comfort is to keep your entire outfit black. We recommend teaming a simple knitted jumper (cable knit works particularly well) with chinos and Chelsea boots. If you are not a fan of the cable knit look, a polo neck jumper or a V-neck pullover can look equally good. Black is a very cool look, but to make sure it works it is very important that your entire outfit is the same shade of black.

The sports coat and jumper

Combining a classic crewneck jumper with a sports coat creates a truly debonair, man about town vibe. Colour coordination is extremely important here so ensure that your coat and jumper complement each other well. A light colour jumper with darker coat and trousers usually works best. Navy and white, brown and burgundy and grey and black are always good colour combinations for men's clothing.
Image Credit

A hint of shirt collar

Many styles of jumper work perfectly with a smart shirt peeking out. These styles include crewnecks, cable knits, Fair Isle and zipped jumpers. For a wide range of different styles consider collections such as the mens Ralph Lauren knitwear range available from EJ Menswear.

Create a contrast

A plain V-neck jumper with a patterned shirt can create some delightful visual drama. You want the jumper to be of quality material but simple design so as not to be overpowering. The cut of the V-neck ensures that you really showcase your shirt and the contrast really makes the pattern pop. Consider gingham or tartan for a bold look.

Fair Isle jumper and tie

This is an old school look, so embrace its classic aesthetic by teaming it with a proper tie. Fair Isle jumpers are bold pieces so you want them to be your focal point, keeping your tie and shirt neutral in comparison. Break this rule and you run the risk of making your outfit look crowded.

Never collect items piecemeal, for a well put together look always ensure your knitwear flows with the rest of your outfit.